Heavenly Asia Pacific Branch Tour Hyojeong CheonBo Solomon Islands Special Event
2019-07-30
본문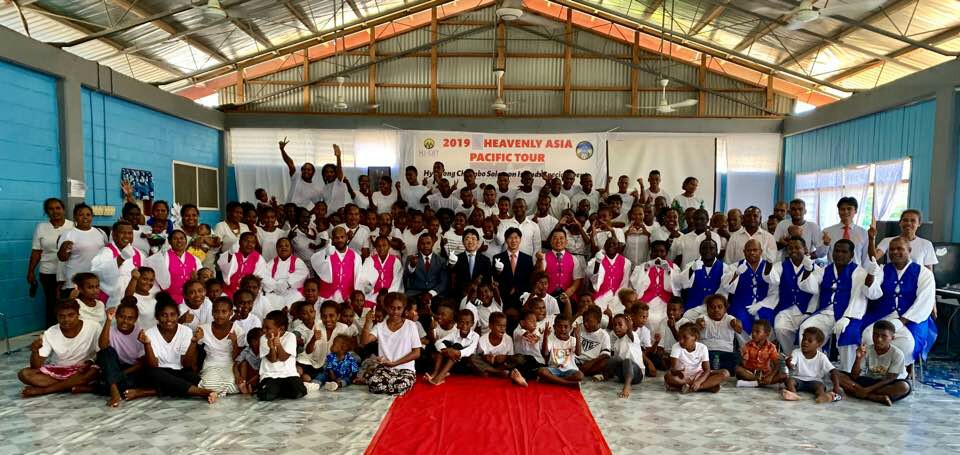 (→More Photos)
From July 27 to 28, the Hyojeong CheonBo Solomon Islands Special Event was held in Honiara, the capital city of Solomon Islands, with a total of about 150 participants.
Although the Solomon Islands are a small nation, it is a significant one, where more than 90% of the population are Christian, and where True Parents have officiated two important historical events. The Solomon Islands are located in the part of the Pacific Ocean where the final battle between US and Japanese naval forces took place at the end of World War II. There are still 70 battleships sunken in the Solomon Sea surrounding the islands. Through a special ancestor liberation and blessing, the way has been opened for all the fallen soldiers who died on those battleships to be restored.
The programs were as follows: orientation, opening ceremony, chanyang, Lecture Ⅰ, Ⅱ and CheonBo Special Lecture given by Heavenly Asia Pacific Branch President In-cheon Km (first day); Ancestor Liberation Ceremony, Spirit World and Physical World Matching Ceremony, Hyojeong Offering Ceremony, Ancestor Blessing Ceremony and Spirit World and Physical World Blessing Ceremonies (second day).
*Testimony: Hyojeong CheonBo Solomon Islands Special Event: I heard screaming voices during chanyang
​