Prayer of Gratitude for Victory and Hyojeong Offering Prayer
2020-02-19
본문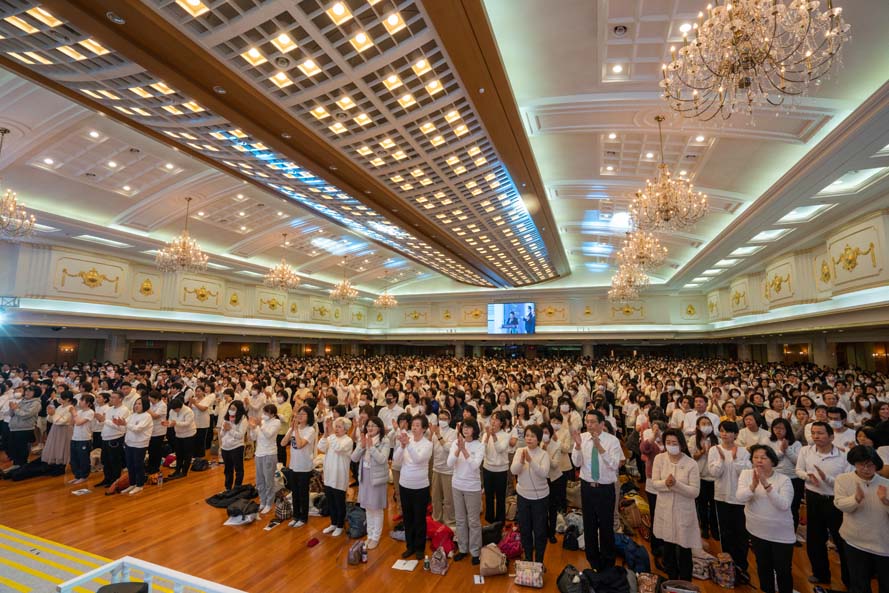 On the third day of the Hyojeong Festival (Feb. 7) at the main hall, training center Education and Promotion Department Director Jong-jin Kim led a Prayer of Gratitude for Victory and a Hyojeong Offering Prayer. The trainees gave enthusiastic applause with gratitude to their Heavenly Parent, True Parents, Hyo-jin nim, Heung-jin nim, Daemo nim, absolute good spirits, and the staff of the training center as well as family members around the world for allowing us the Hyojeong Festival. Then, they offered the Hyojeong Offering Papers and Hyojeong Offering Prayer in unison, chanting "Father!" and "Mother!" with their earnest wishes.
President Gi-seong Lee shared his grateful heart for the heavenly works which brought together all the brothers and sisters to become one family under Heavenly Parent surpassing all races, nations, and cultures because of True Parents. He also shared joy, telling the audience that an era of unity between Korea and Japan had been opened by True Parents' grace in welcoming daughters of a Korean-Japanese and a Japanese-Japanese couple into the true family as spouses of True Parents grandsons, Shin-chul and Shin-heung.
Following that, Vice President Myong-kwan Lee delivered a message of resolution calling on all of us to devote ourselves to attending True Mother and supporting her three years of jeongseong until she turns 80 years old and he led three cheers of "Eog-Mansei." The prayer session concluded with the offering of a gyeongbae to True Parents.