Information Concerning the '2019 Autumn Hyojeong CheonBo Great Works'
페이지 정보
작성일

2019-10-11 Hit5,032
본문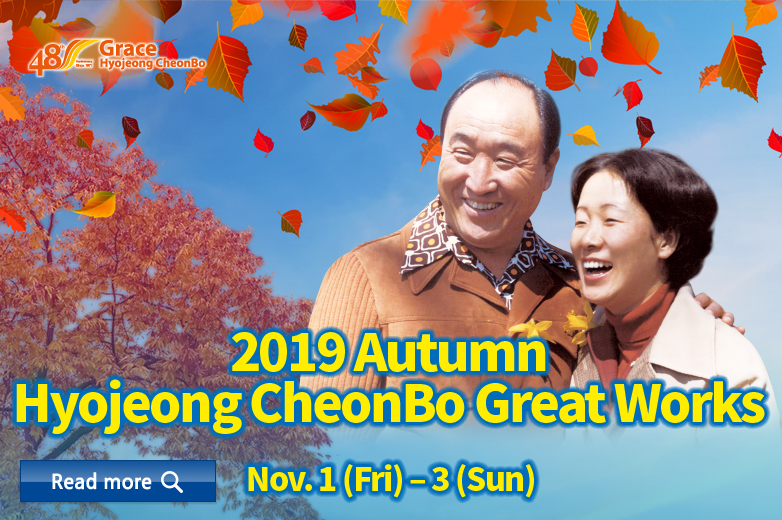 ↑Click here !!↑
Information Concerning the '2019 Autumn Hyojeong CheonBo Great Works'
We pray the Heavenly Parent and True Parents' blessings and love be with you all.
With True Parents' substantial dominion in the spirit world and physical world, the HJ Heaven and Earth CheonBo Training Center is holding the
'2019 Autumn Hyojeong CheonBo Great Works'
as stated below. This Autumn Great Works is of profound significance, being held during the time of 'the great revival rally' (tentative name) in accordance to True Parents' words.
Notably, during this Great Works, the blessing of 430 generations of ancestors will be held.
We hope that many of you can attend the Autumn Great Works, and received great grace and blessings.
Please note that this official memo is intended for those members living outside of Korea and Japan.
1.
Dates: November 1 (Fri) 6:30 am Opening Prayer ~ November 3 (Sun) 7:30 pm
2. Eligible Participants:
All Unification Family members from around the world
3. Registration Fee:
Varies according to date of arrival
age

Oct. 31 (Thurs)~

Nov. 1 (Fri)~

Nov. 2 (Sat)~

0~2 years

13,000 won

9,000 won

5,000 won

3~6 years

21,000 won

13,000 won

5,000 won

elementary school

40,000 won

30,000 won

20,000 won

adults
(13 years over)

66,000 won

48,000 won

30,000 won
4. Main Program:
The program and time may be subject to change.
1) 'Great revival rally' (tentative name)
: Nov 2 (Sat) 9:30 am ~ (Venue: Cheongshim Peace World Center)
2) Prayer at the Tree of all Things
: Nov 2 (Sat) 9:30pm ~ (Venue: Water of life square in front of the Tree of all Things, HJ CheonBo Training Center)
3) 1 ~ 430 generations Ancestor Liberation:
Nov. 3 (Sun) 7:15 am ~ 8:30 am
4) 1 ~ 430 generations Ancestor Blessing:
Nov 3 (Sun) 8:30 am (rehearsal), 10am ~ Ancestor blessing ceremony
5.Further inquiries:
A. Telephone: +82-31-589-7177
B. Fax: +82-31-584-5787