(Updated Apr. 29) Information Concerning the '2021 Hyojeong CheonBo Great Works Commemorating True Parents' 61st Holy Wedding Anniversary'
페이지 정보
작성일

2021-04-09 Hit7,398
본문
May the blessings and love of our Heavenly Parent and True Parents be with all mission nations.
The 2021 May, "Hyojeong CheonBo Special Workshop" will be held as the "2021 Hyojeong CheonBo Great Works Commemorating True Parents' Holy Wedding Anniversary", and will be conducted as a one-way livestream video broadcast workshop.
This is a special and immense grace given to us by our True Parents following the preventive measures and policy as a result of COVID-19.
In accordance with True Parents directives, all Blessed family members are strongly encouraged to participate the 4 annual Great Works. Therefore, each church and church facility should abide by their respective country's COVID-19 regulations and guidelines and inform as many blessed families as possible to participate and receive grace.
Please note that this official memo is intended for members living outside of Korea and Japan.
1. Event Date: Before: April 30 (Fri) ~ May 1 (Sat), 2021
After: May 1 (Sat) ~ May 2 (Sun), 2021
2. Eligible Participants: All members
3. Schedule (Korea time (GMT +9))
Time

Content

Notice

18:00~18:35

Part 1: Chanyang Session, Ancestor Liberation Ceremony

Live Broadcast

18:35~19:40

Part 2: Commemorative Video, 19:00 ~ Hyojeong Offering Ceremony

19:40~20:25

Part 3: Special Meeting (Prophet Rhadebe message, True Mother's Speech)

21:50 ~ 22:00

Part 4: Ancestor Blessing Ceremony, Spirit World and Physical World Blessing Ceremony
* Schedule is tentative.
* Please attend either May 1 or May 2
4. Great Works attendance locations:
During this Great Works, members can participate from their church, church facility, or from their homes. However, participation from home is only allowed during this coronavirus period.
A. Church and church facility
1) The following members should attend from the church:
- Members who would like to participate in the Chanyang session due to health problems.
- Members experiencing internet or Wi-Fi issues.
- Members who due to various difficulties are unable to view the Great Works live broadcast (For example; environmental difficulties at home or lack of support from family members).
- Members with spiritual issues (To safely deal with the situation).
- Members and representatives who are applying for Spirit World and Physical World Blessing Ceremony
B. Attendance from Blessed families' homes
1) In the family, those attending can clap and separate spirits from their own body during the Chanyang session but
members should not try to hit and remove spirits from the body of someone else.
2) Items to prepare at home:
- True Parents' official picture, Hyojeong Won (Recommended),
Hyojeong Offering Paper 1 Per Family
(Recommended: Offer the Hyojeong Offering Paper in advance), Holy Robes (for members participating in the Ancestor Blessing Ceremony)
5. How to watch the Special Great Works:
A. Method for Individual Registration: Attendance at a church, church facility, or blessed family's home via HJCB website;
1. After confirmation of registration for the Special Great Works, the ID and password will be sent to you.
2. Those who are chosen to appear in the BODA two-way connection will be contacted later with a separate link and password.
6. Grace of Hyojeong Offering Ceremony (Holy Burning Ceremony)
There is a special grace for all the members who attend the Hyojeong Offering Ceremony (Holy Burning Ceremony) during this Spring Special Great Works where the members' blessed ancestors' memories of past sins can be completely expunged. However, as a condition to receive this grace, you will need to have offered at least one Hyojeong Offering Paper in your name at the HJ Heaven and Earth CheonBo Training Center since the last Hyojeong Offering Ceremony (2020 Autumn Special Great Works).
7. Spirit World and Physical World Blessing Ceremony Holy Wine Ceremony:
Churches should prepare Cheon Il Guk Holy Wine for any participants at their church that are applying for the Spirit World and Physical World blessing Ceremony.
8. Further inquiries
A. Telephone: +82-31-589-7177 (English)
B. FAX +82-31-584-5787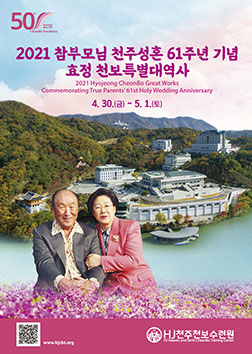 Download the poster