Contest & Exhibition of Testimonies celebrating the 50th anniversary
페이지 정보
작성일

2021-07-31 Hit25,690
본문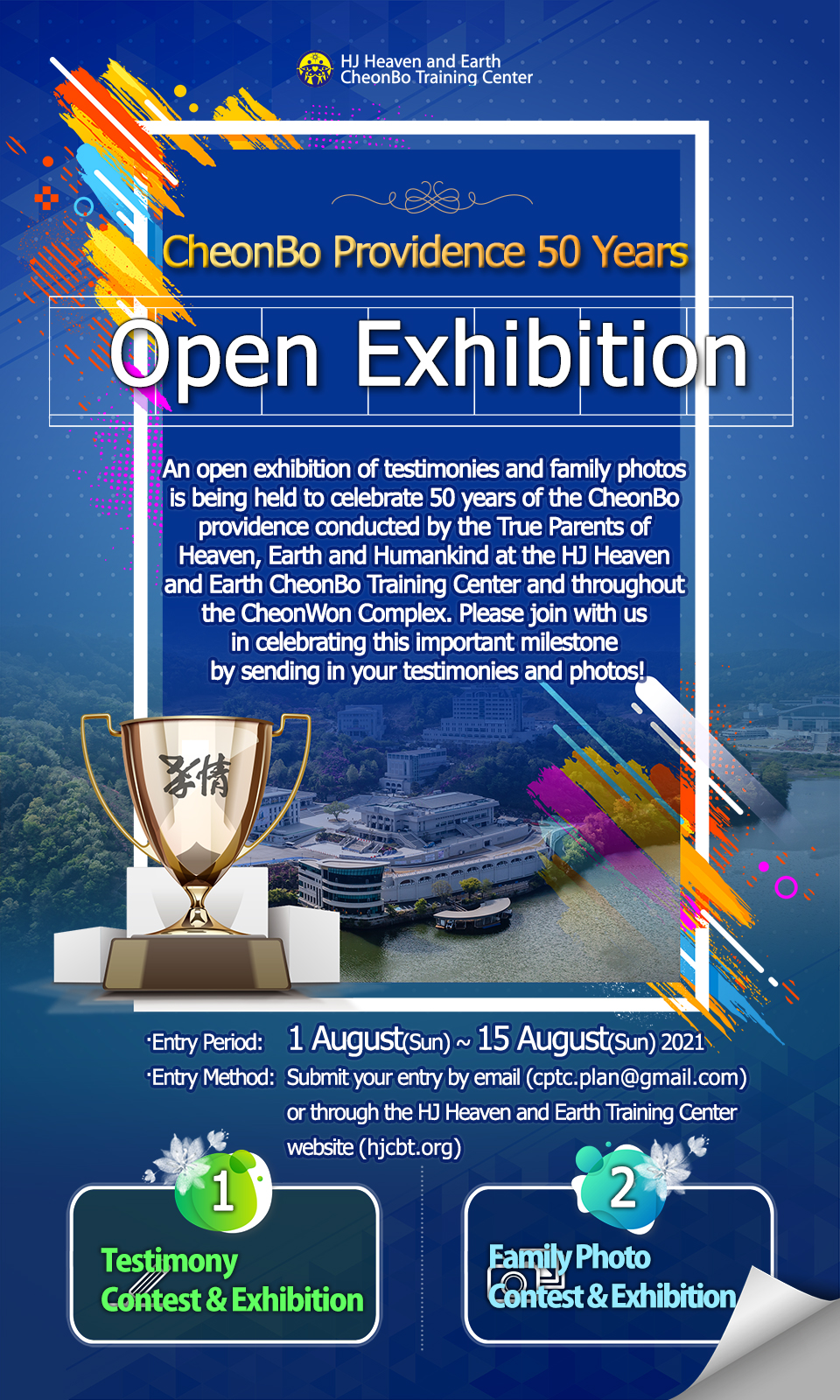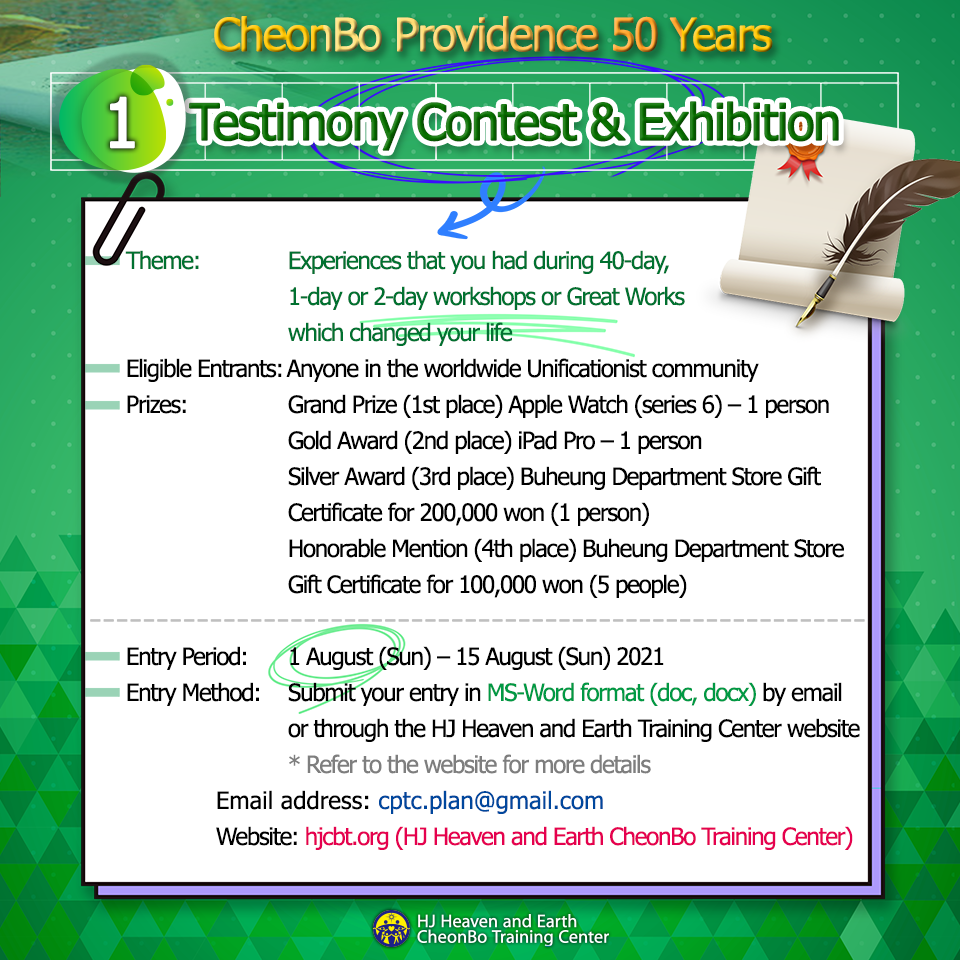 May the blessings and love of our Heavenly Parent and True Parents be with all mission nations.
A testimony and family photo contest will be held to celebrate the 50th anniversary of the CheonBo providence as described below.
1. Name of Event: CheonBo Providence 50 Years Testimony & Family Photo Exhibition
2. Purpose of Event:
To give everyone in Heavenly Parent's Holy Community the opportunity to participate in celebrating the CheonBo providence centered on Cheon Jeong Gung and the HJ Heaven and Earth Training Center that has been conducted in the 50 years since the True Parents of Heaven, Earth and Humankind selected the original holy ground of the Unification Movement, established the original sanctuary here, which has now expanded to the HJ Cheonwon Complex.
3. Categories
A. Contest & Exhibition of Testimonies celebrating the 50th anniversary
B. Contest &anp; Exhibition of Family Photos celebrating the 50th anniversary
4. Schedule
A. Period for Entries – August 1–15, 2021
B. Announcement of winners: During the 2021 Seonghwa Festival (Detailed schedule will be announced later.)
5. Eligible Participants: All members of Heavenly Parents' Holy Community
6. Items to submit: CheonBo Providence 50 Years Testimony Contest & Exhibition
1) Theme: "Changes in my Life and Faith" testimonies of experiences that you had during 40-day, 1-day or 2-day workshops or Great Works which changed your life or faith
2) Format
a. Submit as an MS-word document.
b. Testimonies may be submitted in anylanguage you prefer.
3) Submission method: choose from 1, 2 below.
1

Submit via the Google Form

2

Send the entry form and testimony
as email attachments
email address:

cptc.plan@gmail.com
※ When you submit your testimony, use the following format for the filename: [Testimony Exhibition]_my name
4) Prizes: to be awarded later
Prize Category

Prize

Number of
Winners

Grand Prize (1st place)

Apple Watch (series 6)

1 person

Gold Award (2nd place)

iPad pro

1 person

Silver Award (3rd place)

Buheung Department Store Gift Certificate for 200,000 won

1 person

Honorable Mention
(4th place)

Buheung Department Store Gift Certificate for 100,000 won

5 people
7. Questions
※ Questions from Japanese or international entrants should be submitted by email only.